Reporter's name: Jay Adams (with Ruth Richards and Carlos Anderson)

Sighting Description: Three Sanderlings, one of which was in breeding plumage. The species is marked "rare" in summer on Whidbey.

Location: Off-shore at Crockett Lake as seen from the path that leads to the water behind the Keystone Cafe.

Date and time: July 20, 2017 at roughly 9:30 a.m.

Above comment submitted Jul 20, 2017

---


WAS is reaching out to birders who would like to assist us in our mission by offering to lead a birding field trip or two.. Each year WAS hosts multiple birding field trips for both members and nonmembers. Typically, we schedule at least two field trips each month. Some of our field trips are to local sites like Deer Lagoon, Fort Casey and Deception Pass, others might be a bit further away like a ferry ride to Port Townsend or Birch Bay. Some field trips are a few hours long, others might be a day trip. We are open and will consider all suggestions. Please note, Field Trip leaders do not necessarily need to be expert birders, but rather good leaders who enjoy birding with others and are willing to help organize a trip. WAS has some helpful trip guidelines and I will also assist you with your planning. Please consider how you can help out and contact me with your ideas. Thank you, Ann Casey WAS Field Trip Chair email 360-331-4679

---


Reporter's name: David & Rhico Stamey

Sighting Description: We spotted 5 American White Pelicans swimming near the shore(along Dike Road)on Dugualla Bay. They stayed in a group and were dipping their bills for fish.

Location: Dugualla Bay along Dike Road

Date and time: July 16, 2017 2:30pm

Above comment submitted Jul 16, 2017

---


Reporter's name: darwin wile

Sighting Description: more than 100 pelicans, numerous least and western sandpipers, 10+ greater yellowlegs, 1 lesser yellowlegs, 6 long-billed dowitchers. Unable to find re-necked stint seen by Carlos.

Location: Deer Lagoon, west dike

Date and time: 7/14/17, 2:00 pm

Above comment submitted Jul 14, 2017

---


Reporter's name: Carlos Andersen

Sighting Description: Red necked Stint, reddish upper neck and head, white below.

Location: Deer Lagoon, Freeland

Confirmation: Photo posted.

Date and time: 7/13/2017, 500pm

Above comment submitted Jul 13, 2017

---


Reporter's name: George Heleker

Sighting Description: I am adding to the information already shared by Darwin about the American White Pelicans.
The birds were in 4 different groups when we first saw them. At times 10-35 would fly around the area including over the bay, then return. I tried counting them from several angles but it is impossible to absolutely count every bird when they are grouped together. At one point, they were in two groups, one group of about 120-130 on an island, and a second group of 55 feeding actively at the northwest end of the marsh. Right before we left, most of them took to the air and circled around just above, an awe-inspiring sight! It was last year on the 13th of July that the numbers of pelicans jumped up, and even more were at this location on the 14th. I was hoping that the same thing would happen again this year, and it appears to be taking place, at least for now.

Location: Deer Lagoon

Date and time: 7/13/2017 11:30 a.m.-2:00 p.m.

Above comment submitted Jul 13, 2017

---


Reporter's name: Darwin Wile

Sighting Description: a flock of about 100 pelicans are "kettling" over Useless Bay. This is the greatest number of pelicans that I have seen near Deer Lagoon since last summer.

Location: Useless Bay/Deer Lagoon

Date and time: 7/13/17; 1:55 pm

Above comment submitted Jul 13, 2017

---


Reporter's name: Darwin Wile

Sighting Description: a whimbrel, listed as rare in the summer, just showed up in Deer Lagoon.

Location: tidal flats, about 50 yards from the end of the long wooden pier extending from house on Sunset Beach Road

Date and time: 7/9/16; 4:10 pm

Above comment submitted Jul 9, 2017

---


Reporter's name: Darwin Wile

Sighting Description: Stint was easily found at 7:30 am. Steady stream of birders keep tabs on the bird's whereabouts.

At 9:30 am, Deer Lagoon relatively quiet - singing wilow flycatchers, a few peeps, a pair of greater scaup well on their way into eclipse plumage, 35+/- pelicans.

Location: Crocket Lake/Deer Lagoon

Date and time: 7-9-17; 7:30/9:30

Above comment submitted Jul 9, 2017

---


Reporter's name: Martha Hollis

Sighting Description: Regarding Red-necked stint reported earlier... Facebook group Western Washington Birders member Chris West shared a good video on that page. Ryan Merrill and Adrian Lee and from the group confirm the sighting.

Location: Crocket Lake

Date and time: 07-08-17, 10:00pm

Above comment submitted Jul 9, 2017

---


Reporter's name: Jay Adams

Sighting Description: The adult alternate-plumaged Red-necked Stint reported on Tweeters and seen around noon by Carla Corin was still present at the south-eastern end of Crockett Lake today at 4:40 p.m. The bird was with Least Sandpipers, Western Sandpipers and Dunlin but as we watched it tended to feed away from the others.

Location: Crockett Lake

Date and time: July 8, 2017 at either side of 4:30.

Above comment submitted Jul 8, 2017

---


Reporter's name: Brooks Allen

Sighting Description: I don't know the finders of this bird haven't posted here yet; I asked them to. Anyway, there's a Red-necked Stint in the mudflats at the southeast corner of Crocket Lake. Second county record. Found this morning by two guys who's names I don't remember. There are photos on twitter.

Location: Southeast corner of Crocket Lake.

Confirmation: I've never seen one, but there were many birders there from around Puget Sound. I'm pretty darn good with peeps and this was defintely a Red-necked Stint and not a little stint.

Date and time: July 8, 2017, all afternoon.

Above comment submitted Jul 9, 2017

---


Reporter's name: Carla Corin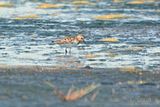 Sighting Description: Headed to Crockett Lake after seeing a report of a Red-necked Stint today. Spent about an hour watching it feed quite close to the southeast edge. Not on Whidbey list! Seemed to be associated with Least Sandpipers.

Location: Southeast edge of Crockett Lake.

Confirmation: Sending photo.

Date and time: July 8, noon.

Above comment submitted Jul 8, 2017

---


Reporter's name: Jay Adams

Sighting Description: While checking the Purple Martin boxes at Crockett Lake this afternoon I heard and then saw a Willet. The bird was along the south shore of the lake, a bit west of the pilings as seen from Route 20. With it were four Greater Yellowlegs. All five birds flew off after a couple of minutes, giving the Willet a chance to show off its distinctive wing pattern. While trying to re-find the bird I became aware of hundreds if not thousands of peep sandpipers, busily feeding on both sides of the lake. Many of them were along the far shore west of the pilings. Others were on the south side of the lake, opposite the ferry landing. Those that were close enough to identify in the shimmer were Western Sandpipers. Also present were two Semi-palmated Plovers.

Location: Crockett Lake

Confirmation: I am very familiar with Willets, having seen tons of them on the East coast.

Date and time: July 3, 2017 beginning about 3:15 p.m.

Above comment submitted Jul 3, 2017

---


Reporter's name: Carla Corin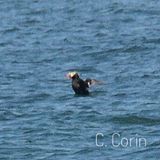 Sighting Description: Tufted Puffin in Penn Cove, seen from the boat Launch/sewage plant. It was quite far out, in the direction of Monroe Landing. We managed to take some lousy photos for confirmation. On the Whidbey list as rare in summer.

Location: Penn Cove, near Coupeville, from boat launch

Date and time: July 3, 1:00 p.m.

Above comment submitted Jul 3, 2017

---


Reporter's name: Susan Bennett

Sighting Description: Three Ospreys, atop three trees above our house, talking to each other. Steve says they were two parents and one juvenile.

Location: Our house on Goes Ridge Road in Freeland

Confirmation: We are experienced birders and recognized the birds calls as well as by sight.

Date and time: July 2 about noon.

Above comment submitted Jul 2, 2017

---


Reporter's name: Jay Adams

Sighting Description: Fox Sparrow (Sooty group), seen and heard this afternoon about 2:15 on the water-side trail at Admiralty Inlet Preserve in Coupeville. This species is listed on the WAS checklist as being common on Whidbey during the spring, fall, and winter months but no seasonal indication of abundance has been assigned for the summer months. A check of eBird reports from Whidbey over the past 10 years shows no June or July Fox Sparrow sightings.

Location: See above

Date and time: July 2, 2017 at about 2:15

Above comment submitted Jul 2, 2017

---


Reporter's name: Darwin Wile

Sighting Description: I drove down Double Bluff Road and was unable to find any of the pelicans I reported earlier. There was, however, a peregrine falcon perched at the top of the large dead snag in the center of the marsh.

Location: West dike, Deer Lagoon, Double Bluff Road

Date and time: 7/1/17, 7:00 pm

Above comment submitted Jul 1, 2017

---


Reporter's name: Darwin Wile

Sighting Description: 23 American white pelicans flying in formation into Useless Bay. Will check to see if and where they land.

Location: Sunlight beach Road/Deer Lagoon

Date and time: 7/1/17; 4:05pm

Above comment submitted Jul 1, 2017

---


Reporter's name: John & Jackie Hughes

Sighting Description: A compact flock of Cedar Waxwing in Coupeville... in town proper.

Location: Coupeville town proper on the west side of town.

Date and time: 6/19/17 at 8:45pm

Above comment submitted Jun 19, 2017

---


June 23, Friday: Pigeon Guillemot Appreciation Day 1 Family-friendly happy hour from 3 to 5 p.m. at Ott & Murphy's Wine Tasting Room, 204 First Street in Langley. Featuring wine, snacks, guillemot crafts and a chance to learn about the Guillemot Research Group.

June 24, Saturday: Pigeon Guillemot Appreciation Day 2 Pigeon Guillemot Field Trip to one of several colonies on the bluffs of Whidbey Island. Meet at 8 a.m. in the Freeland Park & Ride at SR 525 and Woodard (Trinity Lutheran Church parking lot). Carpools will be formed from there. Please dress for the weather.

---


Reporter's name: Joe Hillers

Sighting Description: We saw a woodpecker pair that were black with yellow crown, white mustache. They were first seen at a sunflower seed feeder, then flew together to a large pine tree and later the pair flew to a fence post. The black-backed woodpecker is the species that is most similar to the birds that we observed.

Location: Our home on South Sherman Road near Coupeville.

Date and time: June 17, 5 To 5:30 pm

Above comment submitted Jun 18, 2017
Birding In The Neighborhoods - Weekly Field Trips

South Whidbey
The trips are every other Thursday and the meeting time varies with the season. If you would like to be notified of the events, contact Cathi Bowers (email).

North Whidbey
The trips are on the 2nd Wednesday of each month. If you wish to be notified of the events, contact Marcia Lazoff (email).

Thursday September 14: Whidbey Audubon Program, 7 p.m.