Reporter's name: Sarah Schmidt

Sighting Description: MacGillivray's Warbler at the bird bath at 12:50 - my first Whidbey sighting of this "rare" species! A beautiful male: yellow warbler with gray head grading to black on throat, black line through the eye and crossing over the bill, and white arcs above and below the eye. Stunning! Somewhere in my birding life I've seen the species before, but this is my first since moving to Washington 17 years ago. We must have a migration fallout at our house!

Location: Rhodena Drive, Coupeville

Date and time: 5/25/2016, 12:50 PM

Above comment submitted May 25, 2016

---


Reporter's name: Sarah Schmidt

Sighting Description: Nashville Warbler at our birdbath this morning -- my first Whidbey sighting of this "occasional" species. Gray head, white eye-ring, yellow-green back, yellow beneath.

Location: Three miles south of Coupeville.

Date and time: May 25, 10:15 AM.

Above comment submitted May 25, 2016

---


Reporter's name: Marianne Thawley

Sighting Description: Handsome male Black-Headed Grosbeak in my back yard

Location: Summit Loop, Coupeville

Date and time: 5/21/16 4 pm

Above comment submitted May 22, 2016

---


Reporter's name: Darwin Wile

Sighting Description: interesting flock of shore birds on Deer Lagoon this evening---about 30 whimbrels, 1 black-bellied plover, 1 spotted sandpiper, 7 dowitchers (distance and poor light prohibited exact identification)

Location: Deer Lagoon

Date and time: 5/18/16, 8:05 pm

Above comment submitted May 18, 2016

---


Reporter's name: Jay Adams

Sighting Description: Two Pectoral Sandpipers

Location: Off the path to the West Dike at Deer Lagoon.

Date and time: May 14, 2016 at about 10:45 a.m.

Above comment submitted May 14, 2016

---


Reporter's name: Ruth Scrivner

Sighting Description: 19 Trumpeter Swans flew over my house at Dugualla Bay .

Location: Dugualla Bay Oak Harbor

Date and time: approx. 7:30 am

Above comment submitted May 14, 2016

---


Reporter's name: Jenny Brown

Sighting Description: We saw over 20 Turkey Vultures circling over Ebey's Prairie as our Fledgling Team participated in the Birdathon. At first there were only five, then others came from several directions to join in.

Location: Ebey's Prairie, Coupeville

Date and time: May 11 at about 11 a.m.

Above comment submitted May 12, 2016

---


Reporter's name: Ruth Scrivner

Sighting Description: Turkey Volture

Location: Dugualla bay oak harbor

Date and time: May 11, 2 PM

Above comment submitted May 11, 2016

---


Reporter's name: Caanan Cowles

Sighting Description: A male Hermit Warbler singing away in a small grove of conifers surrounded by large mature forest. Very active and easy to see (not usual for this species)

Location: Moe Rd (Camano Island)

Confirmation: This is the most northern sighting I have had of a HEWA. Confirmed by sight and song

Date and time: 5/9/16 10:30-10:45

Above comment submitted May 11, 2016

---


Reporter's name: Martha Hollis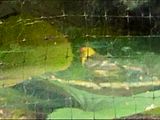 Sighting Description: First ever sighting of a male Western Tanager in our birdbath. Very exciting! Very poor quality photo, dark and through our bird-protecting netting on the window. Wanted to share just the same. Happy Mother's Day!

Location: Near Libbey and West Beach, Sierra neighborhood in the forest...

Date and time: 05-08-16 9:45 am

Above comment submitted May 8, 2016

---


Reporter's name: Steve Ellis

Sighting Description: I heard a Northern Saw-whet Owl calling early this morning. Calling an hour or so later were Barred and then a Great-horned Owl.

Location: Parker Road, Coupeville (Owl Central- at least for today)

Date and time: 5/07/2016 4:00 am

Above comment submitted May 7, 2016

---


Reporter's name: Cathy Queeno-Wall

Sighting Description: 6 Whimbrels in the open field

Location: Bonnie View Acres off of Scenic Heights rd.

Date and time: 5/6/16 at 7:30 am

Above comment submitted May 6, 2016

---


Reporter's name: Jay Adams

Sighting Description: Wilson's Phalarope. Likely female coming into breeding plumage. Very active feeder. One of a large number of shorebirds of various more common species present at the site.

Location: The flooded field off Engle Road, just south of the Prairie Center in Coupeville.

Date and time: May 5, 2016, at about 11:15 a.m.

Above comment submitted May 5, 2016

---


Reporter's name: Darwin Wile

Sighting Description: several (4 or 5) red crossbills at my feeder this morning

Location: bluff above Deer Lagoon

Date and time: 5/4/16; 7:45am

Above comment submitted May 4, 2016

---


Reporter's name: Jay Adams

Sighting Description: American Pipits. Joe Sheldon wrote to say he had seen four birds at 4:00 p.m. We went out at about 6:45, by which time the number had grown to 24 individuals.

Location: In the closely-mown private yard that abuts the northeast corner of Pacific Rim Institute, Coupeville.

Date and time: May 2, 2016 at 6:45 p.m.

Above comment submitted May 2, 2016

---


Reporter's name: Martha Hollis

Sighting Description: I am so happy to report my first-of-the-season Black-headed Grossbeak singing near our bird feeders today. Very glad to see him and hear his cheery tunes!

Location: Near West Beach and Libbey Road

Date and time: 05-02-16 1:30 pm

Above comment submitted May 2, 2016

---


Reporter's name: Joseph K. Sheldon

Sighting Description: Ancient Murrelet seen at the Coupeville ferry landing with Swarovski scope looking west. Swimming with and much smaller than the Rhinoceros Auklets it was with. Appeared to be in or near breeding plumage. Too far for a photo.

Location: Coupeville Ferry landing

Date and time: 7:30 PM, May 1, 2016

Above comment submitted May 2, 2016

---


Reporter's name: Paula Flores

Sighting Description: 4-5 Purple Martins, male and female, active at the Sandy Hook/Cultus Bay community marina for the last three days. They are hanging around pilings and perching on sailboat masts. Starlings are already nesting in piling cavities and the martins seem to be trying to displace them, but the starlings are holding there own.

Location: Sandy Hook Marina, Clinton WA

Date and time: May 1, 2016

Above comment submitted May 1, 2016

---


Reporter's name: Jay Adams

Sighting Description: Forty Cackling Geese and 25 Greater White-fronted Geese.

Location: In the flooded field off the Engle Road in Coupeville, just south of the Prairie Center.

Date and time: May 1, 2016 at about 10:00 a.m.

Above comment submitted May 1, 2016

---


Reporter's name: Dave Parent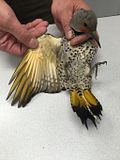 Sighting Description: An intergrade Red-shafted/Yellow-shafted Northern Flicker was presented at the Useless Bay Animal Clinic Wildlife Service with head trauma. The color is really more yellow orange than pure yellow and note the red malar patch.

Location: Langley Cemetery

Date and time: 4/27/16 4pm

Above comment submitted Apr 27, 2016

---


Reporter's name: Jay Adams

Sighting Description: Rock Sandpiper, first found by a small group of birders who were thinking Ruddy Turnstone. Reddish cap, white face with a black auricular spot, reddish scapulars, smudgy-brown upper breast with black patch below, otherwise white underparts, black legs, slightly drooping black bill. The bird was feeding with some 30 Black Turnstones and five Surfbirds.

Location: Head of Penn Cove, opposite Kennedy Lagoon, Madrona Way, Coupeville

Date and time: April 27, 2016 at about 4:45 p.m.

Above comment submitted Apr 27, 2016

---


Reporter's name: Joe Sheldon

Sighting Description: New there are two -- Western Kingbirds seen in and near the prairie remnant at Pacific Rim Institute.

Location: Pacific Rim Institute -- prairie remnant area

Date and time: 26 April 2016; 5 PM

Above comment submitted Apr 27, 2016

---


Reporter's name: Linda McFarlane

Sighting Description: Three dozen Caspian Terns

Location: Baby Island

Confirmation: The return of the Caspian Terns has arrived. Three dozen on the island this morning.

Date and time: 4/26/16 10:00 am

Above comment submitted Apr 26, 2016

---


Reporter's name: Joe Sheldon

Sighting Description: A report of a Western Bluebird (probably female) near the prairie remnant at Pacific Rim Institute - about 2 PM. A Western Kingbird was seen at PRI near the remnant at 2 PM and again at 4 PM. I had a clear view of the bird. If others continue to see either of these birds, please notify Joe Sheldon - jksheldon43@gmail.com on date and specific location at PRI.

Location: Pacific Rim Institute

Date and time: 25 April 2016 - 2 PM and for kingbird again at 4 PM.

Above comment submitted Apr 25, 2016

---


Reporter's name: Mary Hollen

Sighting Description: Purple Martins at Lagoon Point - two After Second Year (ASY) males; 1 possible Second Year (SY) male. THe possible is banded silver on left leg, Marigold on right leg. I can't read the numbers but as of 4/25 the bird has been here three days so expect to get a chance soon. Gourds not up yet.

Location: Steelhead Drive and Salmon Street, Greenbank

Date and time: 4/23/16 first heard over the East Canal at 9:00 am

Above comment submitted Apr 25, 2016

---


Reporter's name: Christine Visick

Sighting Description: About a dozen Whimbrels.

Location: They landed on the Whidbey Golf Course and proceeded to hunt worms for an hour or so. Very effective hunters!

Date and time: 4/20/2016 approximately 2:00pm.

Above comment submitted Apr 22, 2016

---


Reporter's name: Janis Ernst

Sighting Description: A pair of band-tailed pigeons visited our bird feeders this morning along Saratoga Road. First time I've seen them in the yard.

Location: Along Saratoga Road

Date and time: April 21 around 7:00 a.m.

Above comment submitted Apr 21, 2016

---


Reporter's name: Dave Parent

Sighting Description: Purple Martins have returned to the nest gourds at Dines Point.

Location: Dines Point

Date and time: 4/20/16 1853

Above comment submitted Apr 20, 2016

---


Reporter's name: Laurie Sirotkin

Sighting Description: Several groups and a few pairs of Harlequin Ducks offshore between Driftwood Beach and Ebey's Landing, seen while sea kayaking.

Location: offshore between Driftwood Beach and Ebey's Landing

Date and time: 04.15.16 between noon and 1:30 PM

Above comment submitted Apr 15, 2016
Birding In The Neighborhoods - Weekly Field Trips

South Whidbey
The trips are every other Thursday and the meeting time varies with the season. If you would like to be notified of the events, contact Phyllis Kind (email).

North Whidbey
The trips are on the 2nd Wednesday of each month. If you wish to be notified of the events, contact Marcia Lazoff (email).

Thursday, June 9: Meeting
Presentation by Steve and Martha Ellis on the National Wildlife Refuge System. Coupeville Recreation Hall, 901 NW Alexander Street. Doors open at 7 pm, meeting at 7:15, program at 7:30.

Sunday, September 18: Special Event
Bird in the Hand
Sharing the Whidbey Audubon Bird Specimen Library. Noon to 3 p.m. at the Bayview Farm and Garden Nursery, 2780 Marshview Avenue, Langley. Check back for more details or for possible changes.