Reporter's name: Carlos Andersen


Sighting Description: Single Horned Lark at Crockett Lake this morning.

Location: Feeding along the gravel roadway near the viewing platform at Crockett Lake.

Date and time: 11/17/2017, 0900

Above comment submitted Nov 17, 2017

---


Reporter's name: Traci York

Sighting Description: I heard Golden Crowned Sparrows giving the alarm call... I looked out back to see a NORTHERN SHRIKE on the ground, mantling over its capture! Then, it moved under the Doug fir to reveal it had caught a White Crowned Sparrow. This is the first NS I've seen in our back yard - with its distinctive bold black mask, hooked beak, clean white breast, gray back and black wing bars, it was a clear giveaway! I got a good look at him/her, then it was gone as fast as he/she came in! Woah! - listed as Occasional on WAS Birds of Whidbey Island.

Location: NW Broadway St.

Date and time: Nov. 15 2017, 11:30 am

Above comment submitted Nov 15, 2017

---


Reporter's name: Robert and Traci York

Sighting Description: White-throated Sparrow hanging out with adult and juvenile Golden-crowned Sparrows foraging under the cedars and eating seed put out on the patio this morning. Distinct white throat patch, with tan stripes on either side of head and dark rufous overall. Slightly smaller than the Golden-crowned Sparrows.

Location: NW Broadway St. Coupeville

Date and time: Nov 12, 12:20 PM

Above comment submitted Nov 12, 2017

---


Reporter's name: Gideon Seraphine


Sighting Description: White-throated Sparrow:
Another one spotted today in among the other birds under the tube feeder- the one from last month visited for eleven days before departing.
I also posted this on eBird, with photos comparing the two, as this is a new visitor.
The picture shown here is a bit blurry, as it was shot through the kitchen window.

Location: Island View Lane, Langley

Date and time: 11/12/17, 7:40 AM

Above comment submitted Nov 12, 2017

---


Reporter's name: Gideon Seraphine


Sighting Description: Female Yellow-shafted Flicker:
I first saw this bird in the mountain ash tree in the front yard on 11/10, but was not able to get clear photos until she came back yesterday, (11/11), and hung out on the bell feeder long enough for me to get better shots.
I've posted four pictures on eBird, but am including only one here, where you can see the brown face, red neck crescent, and yellow shafts on the visible primaries.

Location: Island View Lane, Langley

Date and time: 11/11/17, 2:45 PM

Above comment submitted Nov 12, 2017

---


Reporter's name: Todd Cavell

Sighting Description: 10:30 A.M.

-Bevy of trumpeter swans in a field next to Dugualla Bay Farms (Not sure what the new name of the farm is).

- European Starlings
- Brewer's Blackbirds
- Red-winged Blackbirds

The swans were first spotted on my way to Anacortes. They were still there an hour and a half later on my way back. I'm relatively new to birding, so I'm not sure how rare of a sighting trumpeter swans are for this area. Very beautiful birds nonetheless.


Location: Dugualla Bay Farms

Date and time: 11NOV17 10:30am

Above comment submitted Nov 11, 2017

---


Reporter's name: Richard Anderson

Sighting Description: Surf Scoter. Same species as what I thought might have been an Eider in Holmes Harbor. Didn't find scoters in previous smaller guidebook, but did in my Sibley Guide at home. Flock of 80-100 swimming together. Many in adult male plumage. Black all over except white patch on nape of neck, white spot on front of crown. Yellow orange triangular bill. Red feet seen through clear water from above on ferry boat. Some flew, displaying no white on wings. Sharp tail held up at angle and large yellow orange bill were source of confusion with eiders. But plumage only matches surf scoter.

Location: Mukilteo Ferry-near ferry dock during crossing.

Date and time: 11:05 am, Nov. 3, 2017

Above comment submitted Nov 10, 2017

---


Reporter's name: Darwin Wile

Sighting Description: One short-eared owl foraging over fresh water side of west dike at Deer Lagoon.

Location: Deer Lagoon

Date and time: 11-7-17;3:20pm

Above comment submitted Nov 7, 2017

---


Reporter's name: George Heleker

Sighting Description: Heard unusual calls outside and found a Blue Jay as it flew to a suet feeder and then a tube feeder in our feeder area outside the kitchen. We watched it for about 5 minutes before it flew to one of our apple trees and out of sight. Heard some more nearby calls a couple minutes later, right before we had to leave for the afternoon. Posted a mediocre photo on e-Bird for i.d. purposes. I'll be on the lookout for it tomorrow.

Location: On Holst Rd. about 2 miles southwest of Clinton

Date and time: November 3, 12:23 pm

Above comment submitted Nov 3, 2017

---


Reporter's name: John Schuster


Sighting Description: Blue Jay at our feeders. What a beautiful bird

Location: Goss Ridge Rd Freeland WA

Date and time: Nov 3 10:00AM

Above comment submitted Nov 3, 2017

---


Reporter's name: Richard Anderson

Sighting Description: Eider, fall plumage. Long white patch on full length of back of neck. White on head above bill and on throat. Rest Black. Floating. Moved around to show all sides. Saw the short pointed tail feathers also.

Location: Holmes Harbor. Where beach comes to a point, south of public steps. 4046 Beach Dr.

Confirmation: Was surprised to see. As far as I know, is rare erratic for your region. visiting solo birder, with 60 years experience.

Date and time: Nov 1, 4 pm

Above comment submitted Nov 2, 2017

---


Reporter's name: Jay Adams

Sighting Description: Snow Bunting

Location: A single bird was seen with Dunlin and Least Sandpipers at the edge of Crockett Lake, more or less opposite the viewing platform. The bird made a quick flight with the shorebirds, landed on a log, and then flew off on its own headed east across the road. All in our group got to see the bird.

Date and time: Monday, October 30, 2017, at about 11:15 a.m.

Above comment submitted Oct 30, 2017

---


Reporter's name: Kate Krause


Sighting Description: There was a blue jay at our feeder this morning, eating sunflower seeds from a platform feeder.

Location: We live in a wooded area off Zylstra Road ~300 yards from the Del Fairfax Preserve.

Date and time: 10/29/17 @ ~10:30 a.m.

Above comment submitted Oct 29, 2017


---


Reporter's name: Sarah Schmidt

Sighting Description: A flock of Western Meadowlarks at Crockett Lake this morning about 9:00 a.m. -- at least a dozen, maybe more. They were next to the road, lakeside, across from the second gravel pond.

Also I scoped the cormorants on the old offshore dock, finding all three species present: Double-crested, Brandt's and Pelagic. I noticed one pelagic looked odd, like it had a strangely thick neck, and as I watched it made a series of retching motions, then cast up a pellet! Turns out that all cormorants regurgitate pellets with fish bones, etc., and that analyzing these pellets is a primary source for researchers studying cormorant diets.

Among the gulls on Keystone Jetty were some that I believe to be the newly lumped Thayer's/Iceland gull. Black wingtips with white spots, with plain pale underside to the folded primaries, and a red spot on a yellow bill noticeably smaller and more slender than the bill on a nearby Glaucous-winged gull. There looked to be three Iceland gulls, two Glaucous-winged (or GWxWestern hybrid) gulls, and two Heermann's gulls.

Location: Crockett Lake

Date and time: 10/24, 9-10 AM

Above comment submitted Oct 24, 2017

---


Reporter's name: Roy Branson

Sighting Description: Six Snow Geese in the middle of Deer Lagoon on Sunday. They were still there on Monday, but at about 2:15 p.m., they flew off in the direction of Sunlight Beach.

Location: Deer Lagoon.

Date and time: 10/22 and 10/23

Above comment submitted Oct 24, 2017

---


Reporter's name: Ed severinghaus

Sighting Description: A songsparrow has hung around our house for over a week, and repeatedly flies to windowsill,and proceeds to peck repeatedly on the glass. He (?)!does this's hour after houwr,and day after day. On various windows of the house.Bizarre!! Not the usual spring "fly at the window " routine at all.
Any ideas or advice. Can't get rid of him .
Appreciate any clarification

Location: Langley

Date and time: Oct 23 and many prior dates.

Above comment submitted Oct 24, 2017

---


Tuesday, October 24 (Rescheduled): Birding at Whatcom Falls Park in Bellingham. Join us for a trip to Whatcom Falls Park, #58 on the North Cascade Bird Trail map. To carpool, meet at the Freeland Park & Ride in the Trinity Lutheran Church parking lot at 7:30 a.m. or at 8:15 a.m. at Windjammer Park in Oak Harbor. Bring a lunch. Whatcom Falls Park in Bellingham has easy trails with some steps between trails. We will see forest birds, hopefully Dippers, Waders, ducks, and waterfalls. No dogs, please. Return about 3 p.m. Call Susan Bennett at 360-331-4779 to register.

---


Reporter's name: Joseph K. Sheldon

Sighting Description: Rough-legged Hawk flying over the prairie at Pacific Rim Institute. The bird landed in the top of a small Douglas Fir tree just north of Morris Road. This is one of the earliest fall records of the species at Pacific Rim.

Location: Pacific Rim Institute

Date and time: 14 October 2017 at 8:15 AM.

Above comment submitted Oct 14, 2017
Birding In The Neighborhoods - Weekly Field Trips

South Whidbey
The trips are every other Thursday and the meeting time varies with the season. If you would like to be notified of the events, contact Cathi Bowers (email).

North Whidbey
The trips are on the 2nd Wednesday of each month. If you wish to be notified of the events, contact Marcia Lazoff (email).

Saturday, December 16: CHRISTMAS BIRD COUNT NORTH
Contact Jay Adams (email)

Saturday, December 30: CHRISTMAS BIRD COUNT SOUTH
Contact Govinda Rosling (email)

Wednesday, January 17, 2018: Field Trip
EBEY'S LANDING AND SURROUNDING AREA
Meet first at the beach at Ebey's Landing at 9 a.m. to look for ducks and seabirds. We will then park up at Sunnyside Cemetery on Sherman Road and walk the Pratt Loop trail looking for hawks, eagles and forest birds. Bad weather will cancel the trip. Contact trip leader Kim Shepard (email)

Saturday, January 27, 2018: Field Trip
LOONS AT DECEPTION PASS
Trip leaders are Sarah Schmidt and Joe Sheldon. Meet at 10 a.m. at the north end of West Beach parking lot, Deception Pass State Park. We'll bird both beach and lake, and hope to see hundreds of Red-throated Loons gathering to feed in the outflowing current of Deception Pass. Bring a spotting scope if you have one. Depending on weather and interest, we will end at about noon, with a possible stop at Dugualla Bay on the way back toward Oak Harbor. If you like, bring water, a snack or a hot drink. Dress warmly and prepare for wind. To carpool, meet at 9 a.m. in Coupeville at Prairie Station Transit Park on the east side of South Main Street; or at 9:30 at City Beach Park in Oak Harbor, at the end of South Beeksma near the water. Cars parking at state park will need a Discover Pass. Questions: contact Sarah Schmidt: email or call 360-929-3592.
Picture Gallery
Post your pictures
White-throated Sparrow
Female Yellow-shafted Northern Flicker
Blue Jay
Red Breasted Sap Sucker
Blue Jay
Barred Owl S End Lagoon View Drive
Back Side of Barred Owl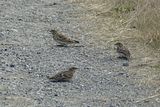 Deer Lagoon Lapland Longspurs 9/24/17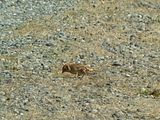 Lapland Longspur - Crockett Lake 9.24.2017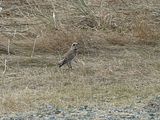 Horned Lark - Crockett Lake 9.24.2017