I was on the 8:30pm ferry last night from Mukilteo. I observed at least 50 Rhinoceros Auklets flying south, many carrying fish back to their nestlings. My question; Are these birds heading around Possession and out to the Protection Island colony or is there a closer colony perhaps on Whidbey? Any thoughts?

Above comment submitted Jul 29, 2014

---


Our local dark-eyed juncos here in Greenbank have succesfully hatched their second round of chicks. The first nest was built on the lawn outside our kitchen window and along with a couple of juvie juncos at least one cowbird fledged. In June we put up begonia pots on our porch and not that long ago noticed a pair of juncos regularly going in and out of the pot, just a few feet from our porch chairs. Tonight we really needed to take a peek inside, as we have been neglecting the begonia, and to our surprise, we already have baby juncos! The dad was very upset with us, but he was more angry than afraid, and I'm sure he'll continue to care for the babies. Speaking of cowbirds, I also saw a song sparrow feeding a young cowbird today. Never a dull moment!
The Flores Roost in Greenbank

Above comment submitted Jul 28, 2014

---


Today was a two-warbler day at the fern hill next the feeder. First we saw my first Black-throated Gray Warbler, and Steve noted a bit of down on the head - a juvenile. Later I spotted a juvenile Wilson's Warbler, with its bright yellow eyebrow. All the typical babies are chasing their parents and cheeping for food, including the twin Flickers and the single Downy Woodpecker. No need to travel!
Steve and Susan Bennett, Freeland

Above comment submitted Jul 28, 2014

---


Katie,

It sounds like you're describing an Osprey - a beautiful fish-eating hawk that nests here. They feed pretty exclusively on fish. If it swooped near, it would have been a coincidence of it spotting a fish in your vicinity. It's cool that you later saw it successfully catch a fish! If you've noticed the big stick nests on top of highway-side poles, those are Osprey nests.

Sarah Schmidt



Above comment submitted Jul 28, 2014

---


July 26, 2014. On a morning walk with family at Bush Point - walked to "slime rock" - large rock in the water at the point. On the way there, my almost 2 year old stopped to play in the water (stream) across the beach. My mother called to me and I looked up to see a very magnificent bird with large wingspan, black and white feathers. It swooped low and suddenly I realized I should protect my baby girl and I scooped her up. As soon as I picked my daughter up, it flew away. Later, near our cabin by the boat launch, we watched as it fell haphazardly into the water and then soared back up with a fish. It kind of looks like a black w under the wings. What is this bird that looked like it wanted a taste of my baby? Thank you, Katie Lindblom

Above comment submitted Jul 28, 2014

---


Chuker sighting on Ridgeway Dr, Oak Harbor Washington

Above comment submitted Jul 25, 2014

---


Finally the sun came out and several purple martins with it. My phoneskope attachment showed up and now I can share these wonderful birds.
Mary Hollen
Lagoon Point

Above comment submitted Jul 25, 2014

---


Four terns fishing off Lagoon Point. Probably Common Terns but at least two of them have white bellies. Like Forsters.

Above comment submitted Jul 22, 2014

---


Purple Martin nest has a bird on it.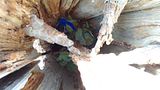 Mary Hollen
Lagoon Point

Above comment submitted Jul 22, 2014

---


Recently there have been a pair of red breasted sapsuckers in my birch grove. Yesterday July 21, I noticed a young one with one of the adults. There was also a western tanager higher up on the same tree.

Above comment submitted Jul 21, 2014

---


Last night I checked the dock piling cavity used by Purple Martins and found several eggs on the piece of cardboard I had provided. I blocked the opening to the recommended max 1 3/16" height to prevent Starlings. About seven mixed adults and young birds cried and dove at me during these procedures. Most of them attempted to enter the hole immediately afterward and two were successful.

Above comment submitted Jul 14, 2014

---


3 Purple Martins on the Keystone Spit near the pilings across Crockett Lake. ~ 11am 7/12/2014 -Emma Ruggiero

Above comment submitted Jul 13, 2014

---


At 7:35 a.m. on July 4th, I saw three Bullock's Orioles in cherry and fir trees at the west end of our place southwest of Clinton, one a male, and the other two immature and/or female. A couple hours later, I heard chatter calls in trees at the east end of our field, and when I went to investigate, I saw the three orioles again before they flew off to the north.

George Heleker

Above comment submitted Jul 9, 2014

---


30 + American White Pelicans in flight,
sighted from Fort Casey State Park Beach. They were far off, but clearly predominantly white with black. Photos were taken that confirmed them to be pelicans. They were flying in a westerly direction and probably crossed the island in the vicinity of S. Smugglers Cove Rd. These were sighted in the afternoon of Monday, June 30, 2014

Larry Hooge (camping at Fort Casey)

Above comment submitted Jul 6, 2014

---


Purple Martin adults and juveniles are bringing nesting materials to at least three dock piling cavities in Lagoon Point neighborhood. They are flying and singing all over the South ends of the canals, and ripping leaves off a crabapple tree to stuff in cavities.
Mary Hollen

Above comment submitted Jul 1, 2014

---


I saw a White-tailed Kite at 1550 on 28 June at our home just north of Possession Point Park. The bird engaged in a series of typical WTK swoops over a semi-cleared area along the bluffs facing Mukilteo at eye level with our upper deck, then moved off northward. It lacked the buffy streaks on the breast which are typical of juveniles, so I assume that it was an adult.

Lloyd Kiff

Above comment submitted Jun 29, 2014

---


There's an injured crow in my backyard. It seems to have a broken wing. Is it best to let nature run its course? There's plenty of food there for it and my mom put a couple of bowls of water out. I just don't want to do more harm than good. And we're wondering if we should at least let him out of the yard, but we feel like he's safe here until he heals.

Above comment submitted Jun 22, 2014

---


Two Heerman's gulls in water off Maxwelton Beach park at 9:15 a.m. On June 21, 2014. Cindy Barrett

Above comment submitted Jun 21, 2014

---


Congratulations to all who participated in the Bird in the Hand event. A stellar success!

Some photos are posted at our PhotoBucket.

---


Please join us this Sunday (6/22) and help pick up litter on our chapter's 2 mile section of West Beach Road. We're meeting at 1:00pm at the end of Hastie Lake Road.
----Steve Ellis

Above comment submitted Jun 18, 2014

---


American Bittern - Ewing Marsh. At least 6 individuals including a male with big white epaulets courting several females (not all at once) by skidding his chin toward them. BIG gallumping calls.
Mary Hollen

Above comment submitted Jun 15, 2014
Birding In The Neighborhoods - Weekly Field Trips

South Whidbey
The trips are every other Thursday and the meeting time varies with the season. If you would like to be notified of the events, contact Phyllis Kind (email).

North Whidbey
The trips are on the 2nd Wednesday of each month. If you wish to be notified of the events, contact Jenny Brown (email).

Thursday, Sept. 4, 2014: Birding Class
The popular Birds of Whidbey class begins. Classes will continue for nine months, meeting in Freeland on first and third Thursdays, plus Saturday field trips. Cost is $150 for members and $175 for nonmembers. More information . . .