Reporter's name: George Heleker

Sighting Description: Instead of the typical behavior, a Short-eared owl was circling about 50 feet up and slowly flying higher while being pestered by 6 crows. After a couple minutes, I looked away for a brief time and when I looked back, the crows were dispersing and the owl was not in sight. I did not see the owl again. There is still a singing meadowlark near the end of the dikes. A single Snow Goose, that I first saw flying with some Canada geese in December, is still hanging around with the Canada geese. Saw a Bushtit taking some material from last year's nest in an Ocean Spray bush, and placing it on a Doug. Fir branch that has the start of a new nest which, if completed, will be hanging right over the trail.

Location: Deer Lagoon

Date and time: 3/20/18-During 4+ hours at the lagoon starting at 9:07 a.m.

Above comment submitted Mar 21, 2018

---


Reporter's name: Dave Parent

Sighting Description: At least one Clark's Grebe in a flock of 160 Western Grebes.

Location: Saratoga Passage, offshore of Greenbrier Ln., Langley

Date and time: 3/18/18 6:20pm

Above comment submitted Mar 19, 2018

---


Reporter's name: Darwin Wile

Sighting Description: 40-45 swans; presumably all trumpeters. They were quite far away, so, even with a scope, difficult to see facial details. But, regardless of the distance, many of them were folding their necks along their upper backs suggesting, to me, that they indeed were trumpeters.

Location: Deer Lagoon, west of the west dike.

Date and time: 3/18/18; 3:30pm

Above comment submitted Mar 18, 2018

---


Reporter's name: Steve Ellis

Sighting Description: 1st Yellow-rumped Warbler flock of the year this morning seen by the birding class. Both races; many "chip"notes and some songs.

Location: Ft Casey State Park Picnic Grounds

Date and time: 10:00am

Above comment submitted Mar 17, 2018

---


Reporter's name: Linda Griesbach

Sighting Description: 14 swans seen "asswimming" on Lone Lake. I'm guessing they are trumpeters, but am not 100% certain.

Location: Seen from the north end of Lone Lake at approx. 1:30 p.m. and seen again from Apollo Drive at approx. 3:30 p.m.

Date and time: March 14.

Above comment submitted Mar 14, 2018

---


Reporter's name: Darwin Wile

Sighting Description: short-eared owl foraging above marsh

Location: marsh west of west dike of Deer Lagoon; possibly cooperatively hunting with male northern harrier

Date and time: 3/11/18; 7:10

Above comment submitted Mar 11, 2018

---


Reporter's name: Cathy Donckers

Sighting Description: From my back deck, looking at 9 white swans on Deer Lagoon.

Location: Deer Lagoon, toward the center of the largest body of water.

Date and time: March 11, 2018 at 5:30 pm

Above comment submitted Mar 11, 2018

---


Reporter's name: Darwin Wile

Sighting Description: one snow goose foraging among a flock of Canada geese; mentioned because snow geese are listed as rare (spring) on the Whidbey check list.

Location: field to the east of the east dike of Deer Lagoon

Date and time: 3/11/18; 5:30pm

Above comment submitted Mar 11, 2018

---


Reporter's name: Robert and Traci York


Sighting Description: While walking Ebey's prairie Pratt loop trail we heard the soft call of Trumpeter Swans. We looked up and saw 21 adults and 14 juveniles in a wonderful V formation. The juveniles were all in front spread equally along the V. Photo attached.

Location: Ebey's Prairie

Date and time: 3/111/18 12:41 pm

Above comment submitted Mar 11, 2018

---


Reporter's name: Dyanne Sheldon

Sighting Description: First tree swallows this morning! I have sighted them on the 5th, 6th, and 8th of the month in previous years. We've been out of town since the 4th, so they may have arrived earlier this week. Anyone else spot some earlier?

Location: Clinton, WA

Date and time: March 10, 2018

Above comment submitted Mar 10, 2018

---


Reporter's name: George Heleker


Sighting Description: Unusual bird sounds in flight alerted me to a Snow Bunting which landed on some driftwood at the south end of the lagoon. After 10 minutes, it moved to a different driftwood nearby which was 50 feet or so from the Western Meadowlark that had been singing a few songs, but mostly vocalizing with long series of song-like notes. Eventually, the bunting flew north and the meadowlark, along with another in the same location, flew west toward the grassy areas.

Location: Deer Lagoon

Date and time: March 6- 11:00 a.m.

Above comment submitted Mar 7, 2018

---


Reporter's name: Dave Parent

Sighting Description: Female Lazuli Bunting. Interrupted a kitty exam to get my phone camera. Will try to get a photo if she returns.

Location: At Useless Bay Animal Clinic Feeders

Date and time: 5 March 4:55 PM

Above comment submitted Mar 5, 2018

---


Reporter's name: Traci York

Sighting Description: Sunday, 3.4.18 - We heard a Western Meadowlark on our walk down Cook Rd. The melodious call was coming from the West towards Willowood Farm. Like last year, we only heard one calling, this one, for a period of about 10 minutes as we walked down the road.

Location: Cook Rd., Coupeville

Date and time: 3.4.18 \ 12:15 pm

Above comment submitted Mar 5, 2018

---


Reporter's name: Linda Bainbridge

Sighting Description: Just got back from Costa Rica last night and this morning saw my first Rufous Hummingbird of the season at my feeder. It's good to be home!

Location: Greenbank, off Honeymoon Bay Road

Date and time: 10:15 am Sunday, Mar 4, 2018

Above comment submitted Mar 4, 2018

---


Reporter's name: Dave Parent

Sighting Description: Two Northern Saw-whet Owls continually tooting from the forest. Nice to hear these little guys. Itís been a long time!

Location: Just east of Greenbrier Ln, Langley

Date and time: March 2, 2018 7pm

Above comment submitted Mar 2, 2018

---


Reporter's name: Dave Parent

Sighting Description: Adult Golden Eagle

Location: Soaring low over WhidbeyTel Maintenance shop. Hwy 525 and Marshview intersection

Date and time: 3/1/18 1225pm

Above comment submitted Mar 1, 2018

---


Reporter's name: Mary Hollen

Sighting Description: Blue crest on the head of the bird I posted on 2/24 as Blue Jay. It was uphill (West) of the intersection of Conrad St. and Best Rd., Clinton WA. In the old fruit trees with some crows. Vocalization was clear, not buzzy like Scrub Jay. Hope someone else will go look - I'm tied to work at the moment.

Location: Clinton, WA

Date and time: 2/24/18 11:00 am

Above comment submitted Feb 27, 2018

---


Reporter's name: Mary Hollen

Sighting Description: Blue Jay uphill of the intersection of Berg and Conrad, above the Clinton Ferry Dock.

Location: Berg and Conrad, Clinton, WA

Date and time: 2/25/18 11;00 am

Above comment submitted Feb 24, 2018

---


Reporter's name: Steve Ellis

Sighting Description: I heard the 1st Hutton's Vireo song of the spring. Also singing today: Song Sparrow, Ruby-crowned Kinglet, Black-cappedChickadee. They just needed the sun to come out after the earlier colder weather!

Location: Parker Road, Coupeville

Date and time: 2/24/2018 10:30am

Above comment submitted Feb 24, 2018

---


Reporter's name: Tillie Scruton

Sighting Description: I think I just caught a glimpse of a White-throated Sparrow at our suet.

Location: Freeland, Holmes Harbor Golf Course, Lotus and Chipshot

Date and time: Feb 22, 2018, 4:15 PM

Above comment submitted Feb 22, 2018
Schedule changes: Remember to check this space a few hours before any Whidbey Audubon Society event in case weather or illness cancels it. Consider signing up to receive updates by email.

Birding In The Neighborhoods - Weekly Field Trips

South Whidbey
The trips are every other Thursday and the meeting time varies with the season. If you would like to be notified of the events, contact Cathi Bowers (email).

North Whidbey
The trips are on the 2nd Wednesday of each month. If you wish to be notified of the events, contact Marcia Lazoff (email).

Saturday, March 31: Field trip
BIRDING IN EDMONDS
Trip leaders are Bev Bowe and Sarah Schmidt. Edmonds resident and bird photographer Bev Bowe will meet the group in Mukilteo and lead it to some of her favorite Edmonds birding spots for both water and land birds. Potential places we'll visit include Edmonds Fishing Pier, Brackett's Landing Shoreline Sanctuary, Edmonds Marsh, Pine Ridge Park and Yost Park. Bring a lunch. Meet at 7:40 a.m. at Bayview Park & Ride to carpool to the 8:30 ferry to Mukilteo. Contact Sarah Schmidt 360-929-3592 to register. There is no participant limit.

Wednesday, April 18: Field trip
REIFEL MIGRATORY BIRD REFUGE/DELTA BRITISH COLUMBIA
We will meet at 7a.m. at Windjammer Park, end of Beeksma Drive, Oak Harbor, to form carpools. We'll walk the trails at Reifel, looking for resident and migrating songbirds, along with raptors, owls, and waterfowl. We'll also stop at Boundary Bay dike. Bring passport or enhanced license, lunch, plenty of fluids, and money for admission ($5 adults, $3 seniors), and dress for the weather. Walking will be mostly level on gravel trails. Return late afternoon to early evening. NOTE: As this is an international trip, you MUST possess an unexpired passport or enhanced license in order to attend. Passengers are expected to contribute toward fuel costs. Kim Shepard 360-720-1711

Saturday, April 21: Field trip
SPRING MIGRATION CRUISE TO PROTECTION ISLAND
Join leader Sharon Gauthier on the Puget Sound Express as you cruise from Port Townsend around Protection Island on this three-hour unique field trip. A National Wildlife Refuge, Protection Island is home to one of the largest nesting colonies of Rhinoceros Auklets in the country. An on-board interpreter will search for seabirds (keep your eyes open for Tufted Puffins, Murres, Murrelets and mammals) while providing information on the geology and history of the area. Audubon has reserved 20 spaces for this trip. Cost is $65.40 per person; you can bring a sack lunch if you wish or purchase on board treats. Meet the group at the Coupeville Ferry Terminal parking lot at 9:45 a.m. to walk on the ferry. Plan on returning from Port Townsend on the 5:15 p.m. ferry. All participants MUST RSVP to Sharon Gauthier, at 425-466-2460 (email), no later than Sunday, April 1st. She will then make the cruise reservations for all paid participants. WELCOME ABOARD!!

Saturday, May 12: Field trip
EARTH SANCTUARY
Earth Sanctuary is a wonderful area at any time of year, but it's especially lovely in the spring when the birds are singing. We will look and listen for spring migrants and our resident birds. The Earth Sanctuary parking lot is very small, so we'll meet at 8 a.m. at Bayview Park and Ride lot to carpool there. Please be prepared to pay a $7.00 entry fee. More information on Earth Sanctuary. The trip is limited to 12 participants so please email trip leader Linda Bainbridge to reserve your space (email).

SAVE THE DATE
Saturday, September 22, 2018 from 10 a.m. to 1 p.m.
The Bird In The Hand Bird Festival
Bayview Farm and Garden and the Bayview Hall, Langley Every other year Whidbey Audubon Society brings its bird specimen library out for the public to enjoy. Volunteers are needed to help. Contact Robin Llewellyn or Cheryl Bradkin.
Picture Gallery
Post your pictures
Trumpeter Swans
Deer Lagoon Snow Bunting
Western Scrub Jay
-- Gord Wilson
Eurasian Wigeons
Eurasian Wigeon Pair
American Goldfinch
Rough-legged Hawk
Rough-legged Hawk
Long-tailed Duck (female), Deer Lagoon
Horned Lark
White-throated Sparrow
Female Yellow-shafted Northern Flicker
Blue Jay
Red Breasted Sap Sucker
Blue Jay
Barred Owl S End Lagoon View Drive
Back Side of Barred Owl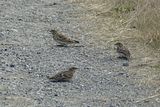 Deer Lagoon Lapland Longspurs 9/24/17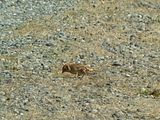 Lapland Longspur - Crockett Lake 9.24.2017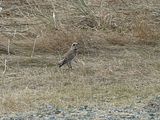 Horned Lark - Crockett Lake 9.24.2017